We offer our customers a broad range of consulting and development services, which are divided into three core areas: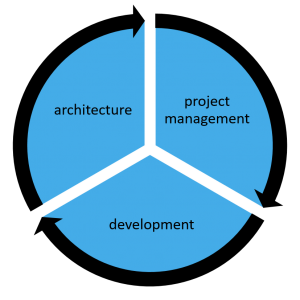 Details on the respective area can be found on the linked pages:
We can support your projects holistically: From the initial idea to the final implementation of your enterprise architecture. Both methodologically and technically we use state of the art and modern models. We are also pleased to offer you a project-related coaching of your team.
Technologies
Our services include the following technologies and subject areas
SAP HANA
Microservices
Big Data
Cloud based, hybrid and on premise architectures
Analytics
User Experience
Methodology
We use process models and methodologies that have been proven successful. Among them are TOGAF, PMI, Scrum and others. When selecting the fitting methodology, it is of relevance that the model also suits you and your project goals. We are also pleased to use your established procedures and methodologies.