Through various customer projects, we have developed the advisory principles presented on this page. Those principles have been continuously expanded from project to project and form a solid basis of our daily work in projects.
The following principles are important to us: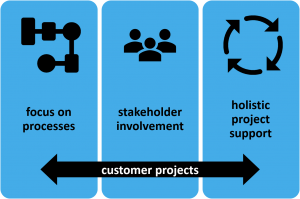 Focus on Processes
The overall objective of projects is to improve a status quo. This improvement aimes at goals such as increasing end-user acceptance, process optimization or the future-oriented design of an architecture. To achieve these goals, a consistent focus on the processes of the company has consequently proved successful in the past. By analyzing the current processes, necessary potentials can be identified and the objectives of the projects can be refined in all dimensions. IT systems and technologies itself are mainly utilities for these goals.
Stakeholder Involvement
Regardless of the client, there are always many stakeholders in projects involved. Initially unrecognized parties might be of great importance for later project success. Accordingly, an early analysis and continuous involvement of stakeholders is of great importance for the project success.
Holistic Project Support
For the staffing of projects, different roles are often used in the course of the successive project phases. For example, an solution architect is often only involved in the design phase of the project and is no longer available to the projects development or go live phases. Our consulting approach is holistic: for the entire project period, we offer you our services from all core areas. That way the project can rely on competent and continuous support throughout all phases.
At all stages, we apply and track these principles. That way, projects can be carried out efficiently and effectively. You as a customer will get many important impulses for your implementation and based on that you can significantly reduce the risk of an unprofitable investment.